Travelling with your dog in Val di Fiemme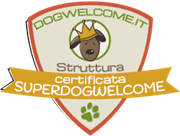 At the Hotel Garnì Laurino in Cavalese, we welcome your four-legged friend!
Our family loves animals. We traveled for many years together with our 3 dogs. For this we offer you a mat, bags, pillow, a welcome kit and the support of our Dog Sitters. In addition to the possibility of having breakfast in the room reserved for you and yuor pet!

If you have a dog and would like to bring it on holiday, there are 6 good reasons to stay at the Hotel Garnì Laurino for a pet-friendly holiday:
Gift basket with biscuit and much more for your four-legged friend
Information and maps for walks in the Val di Fiemme countryside
Qualified dog sitters available on request
Private dog training lessons for your dog at the Hotel Garnì Laurino
Rooms, suites and apartments with balconies, wooden floors and gardens for dogs to play in
Private room where you can have breakfast with your four-legged friend.